Benamocarra, a white village overlooking the valley of the Velez river surrounded by a landscape of almond and olive trees.
Where is Benamocarra located
Benamocarra is located 35km from Malaga capital with a population of 3.011 inhabitants. The municipal term has a dimension of almost 6km square.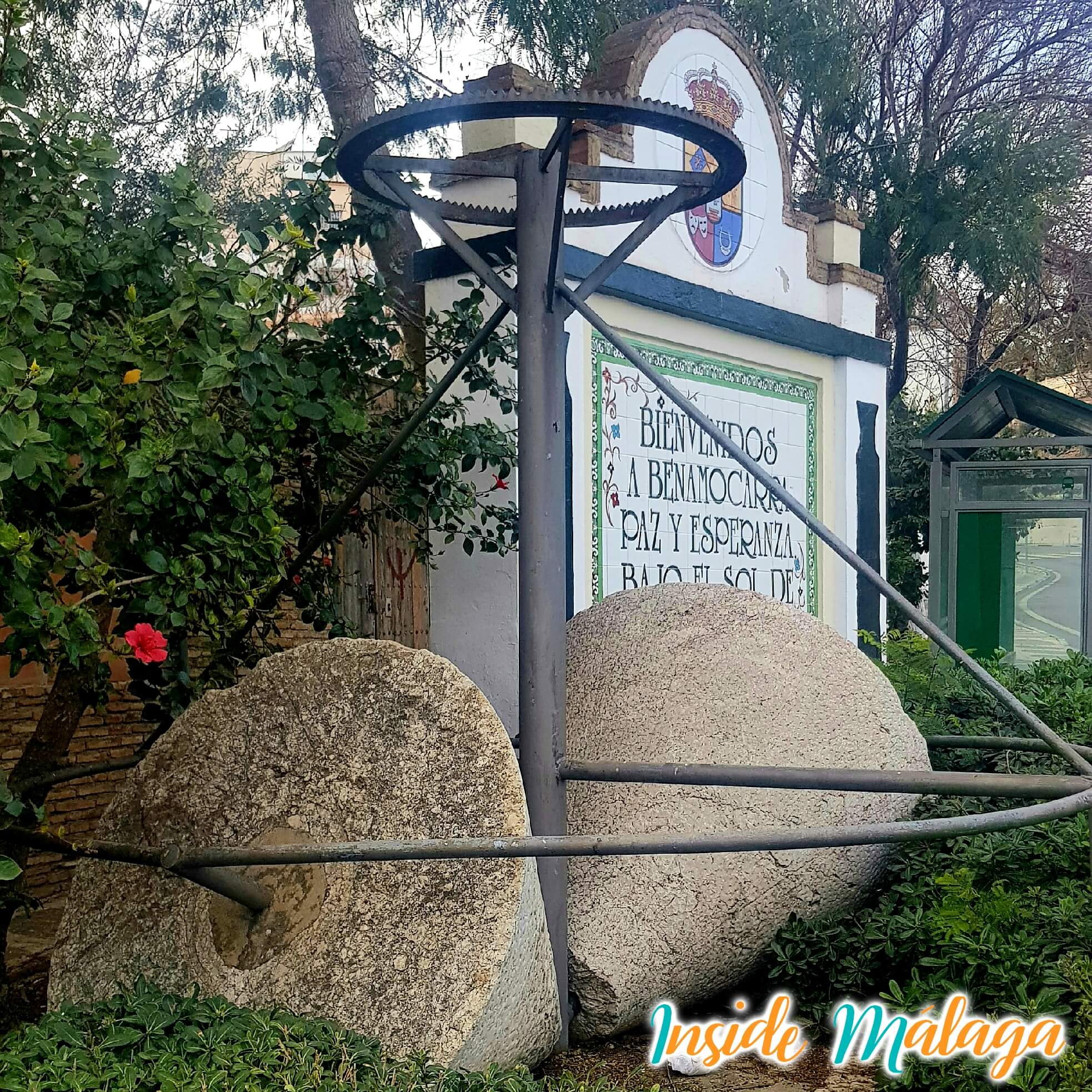 Origin of the name Benamocarra
The name Benamocarra comes from the Arabic where "Ben-" means "son" and Mocarra is a name, therefore "Son of Mocarra".
Denonym of the people of Benamocarra
The inhabitants are called "benamocarreño or benamocarreña". Or also "mocarreño or mocarreña".
Monuments and places of interest in Benamocarra 
Church of Santa Ana: Located in Plaza Eduardo Ocón. The temple was built around the year 1505, consisting of three naves with a Mudejar-style armor that covers the roof. Of the bell tower we can highlight its rectangular base that underwent various reforms in 1949 that changed its original appearance.
House-Mill de Concha Collantes: It is a mill from the end of the 18th century that was in operation until 1964. Inside you can see the old tools and furniture of the mill. It has become a veritable museum that is open to the public on designated days.
Fountain de los caños: It is a fountain made up of three pipes built by brick and concrete. The water from this source has been used for centuries for human consumption and as a trough for beasts. Behind the brick structure is an old Arab bath that was used to perform the bathing ritual before praying.
Hermitage of San Isidro Labrador:  Located in the San Isidro Labrador neighborhood, built in the seventies. A modern hermitage with little decoration on the outside. It was built by the residents themselves, Francisco Cañete Fernández being parish priest whose name appears on a plaque located on the façade. Inside it houses the image of San Isidro. The facilities are used to celebrate masses or social events.
Monument of Eduardo Ocón: Eduardo Ocón y Rivas (1833-1901), great composer and pianist from Benamocarra. Coming from a humble family, he began his musical career in the Cathedral of Malaga, with great interest and motivation for music he created a music school, to finally become the first director of the Malaga Conservatory and thus become one of the most important Spanish composers of the 19th century.
Santa Marta Chapel
Plaza de la música: Located on Calle Zarzuela. In this square, the day of music is celebrated annually in September. In this square, the musicians of the area are honored, specifically Eduardo Ocón y Rivas, of whom we will find a bust in the square. During the music day there will be tributes, awards, performances by the municipal music band and local dance groups, etc.
Fountain
For more information about Benamocarra Village: visit the City Council page