Bernardo de Gálvez (1746-1786), was a military and politician born in the province of Malaga. He developed an important military and political career, especially in the American territories, as he was a key part of helping the Anglo-American rebels and occupying various positions such as the governor of Louisiana and the viceroy of New Spain.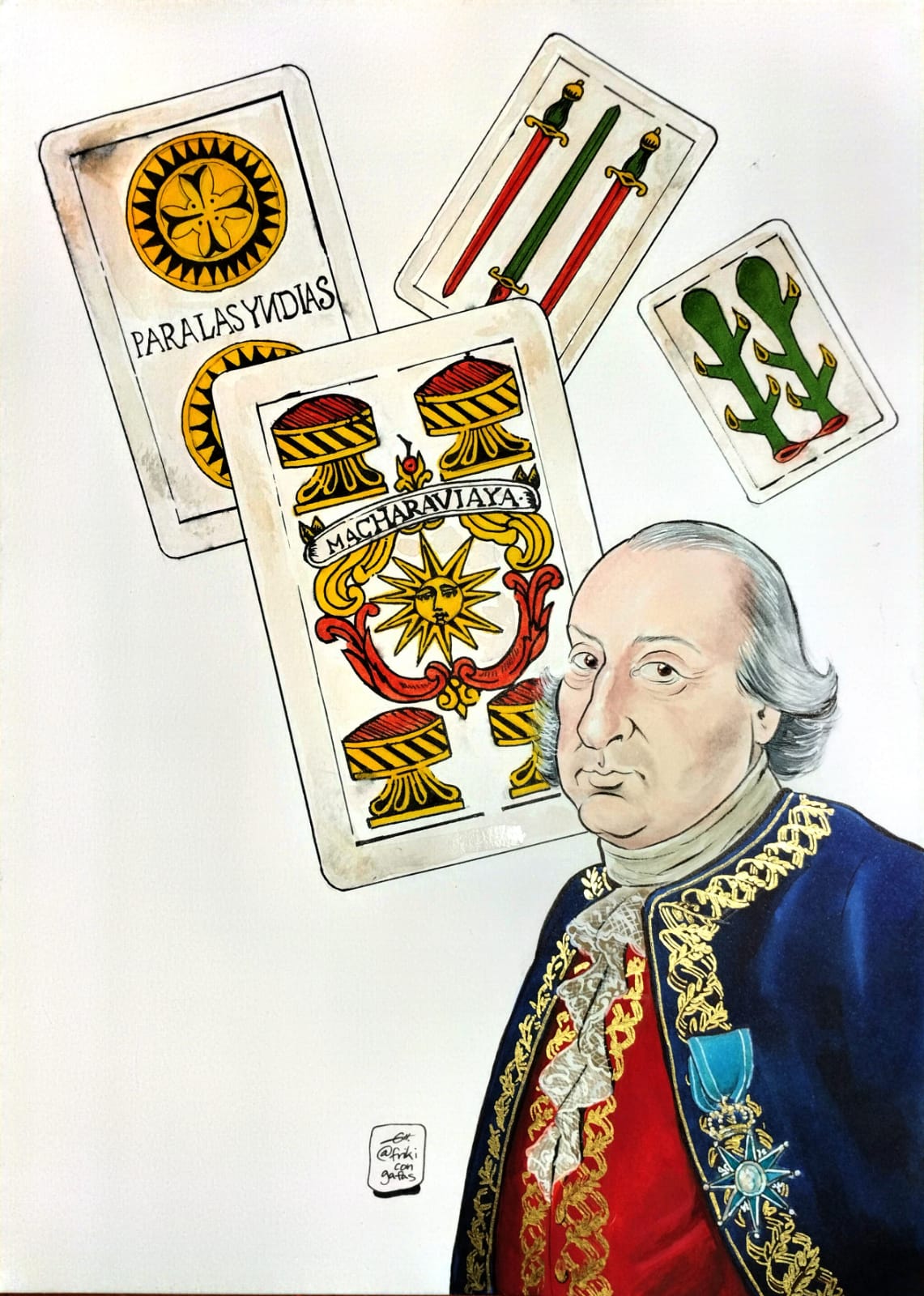 Illustration made by Enrique Pedraza Díaz «Epede».
Life of Bernardo de Gálvez
Who was Bernardo de Gálvez?
Bernardo de Gálvez was born on July 23, 1746 in Macharaviaya village in the province of Málaga. He was a military and politician, who became the 49th viceroy of New Spain (1785-1786). He was awarded the honorary title of an American citizen in 2014.
What were his origins?
He was born in Macharaviaya, a village of La Axarquía in the province of Málaga, in the midst of a hidalga family (nobles with few resources). His parents were Matthias de Gálvez and Maria Josefa de Madrid. His childhood passes between his native Macharaviaya and the neighboring town of Benaque (Málaga). Later he moved to Madrid, then his father was destined to Tenerife, so his adolescence would be spent in the Canary Islands.
How did his military career begin?
At only sixteen years old, in 1762, he entered the army and took part in the war against Portugal. In 1765 he was destined to the viceroyalty of New Spain as captain of the fixed infantry regiment of the Crown. In 1770 it was destined to Chihuahua (Nueva Vizcaya), where it became involved in numerous fighting against the Apaches Indians. Two years later, he returned to Spain and later went to France, where he learned French. In 1775 he returned from France, and as captain he took part in a failed expedition to Algiers, yet as a reward he was promoted to lieutenant colonel.
How did he work as governor of Spanish Louisiana and what was his support for the Anglo-American rebels?
He returns to America and establishes itself in the Louisiana capital of New Orleans. In 1776 he was appointed colonel of the Louisiana fixed regiment and a few months later, in 1777 he took office as interim governor of Spanish Louisiana.
From that moment on, Gálvez is determined to face the British threat to the Spanish territories, giving decisive help to the American rebels of the thirteen British colonies by sending arms and medicines along the Mississippi River; to assist settlers fleeing from the british; and to refine the supply systems to support the anglo-american rebels, where all aid came. All of these actions became fundamental for the nascent United States to gain independence, as George Washington himself recognized.
During this stage, Gálvez carries out a policy of colonization, establishing numerous inhabitants of the Canary Islands in points of Louisiana and carrying out the foundation of several cities, such as Barataria, Nueva Iberia and Galveston.
In 1779 he was appointed governor owned by Louisiana, and continued the fight against the British, taking in 1781 the squares of MOBILA and Pensacola. The consequence was the recovery of Spanish sovereignty over Florida. As a result, King Charles III grants him the title of Count of Gálvez and the inclusion in his coat of arms of the motto "I alone", in recognition of his victories.
How was his work as a viceroy of New Spain?
In 1785 he was named viceroy of New Spain, succeeding his father. Its beginnings were not easy, because it had to face many problems: Food shortages, crop losses and an epidemic of plague that had caused many deaths. Because of this situation, it carried out numerous measures, such as isolation of the sick, internment and free medication for the poor; it welcomed many who had fled the countryside because of poverty, and so allocated a great deal of their own money for this; he encouraged public works throughout the viceroyalty and expanded the new smallpox vaccine.
He was a popular viceroy among the novoHispanics, as was his wife, Felicitas de Saint-Maxent, who would even receive numerous accolades.
What was his death like?
However, a rapid illness ended up killing his life on November 30, 1786, at only forty years old. He was buried in Mexico City, leaving two heirs and one on his way.
His short term left a big mark, because of his illustrated character. His loss was felt in all the territories of the Spanish empire.
What was his subsequent recognition?
Despite being forgotten for a long time and not being recognized as a figure, there has been an increase in interest for you in recent years. In 2014, thanks to the work of the Bernardo de Gálvez Foundation, his portrait was brought to the Capitol of the United States, In honor of his work in the cause of American independence. Finally, President Obama signed the appointment as an Honorary Citizen of the United States.
In his native land there is also a resurgence of his figure, as his name is promoted throughout the province of Malaga and even with statues of the Gálvez family in the vicinity of the Maria Zambrano train station in Malaga.
Juan Manuel Lopez