What activity can you do with the whole family that is fun? An original and different activity for the whole family is to go to play Minigolf in Malaga. Since it is a fun game that always brings a lot of laughs and perhaps some healthy competition between family members. Next we are going to make a list where you can play this game invented in South Africa in 1910 in the province of Malaga.
Torremolinos: Minigolf Park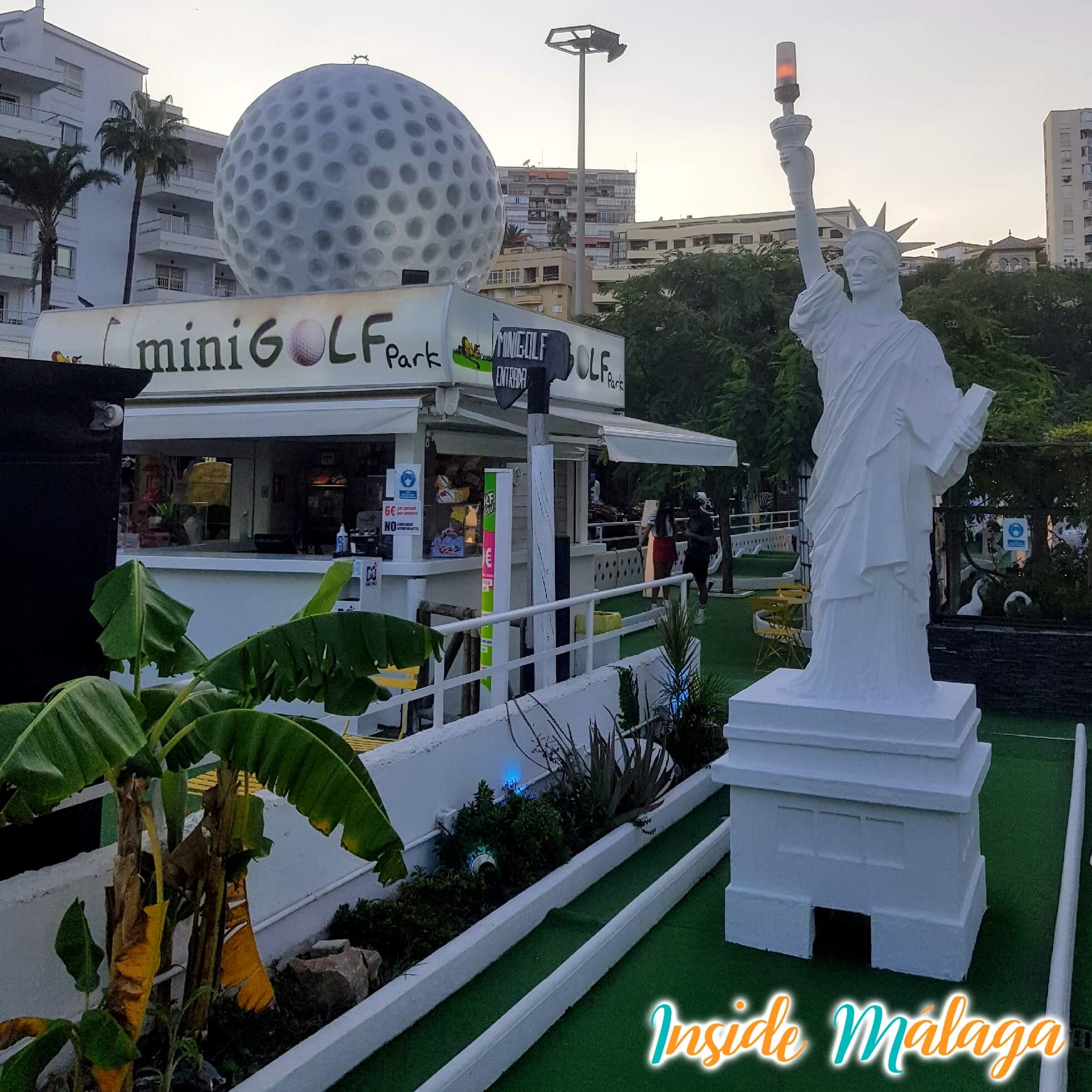 This modern outdoor miniature golf is located 5 minutes from the old town and the historic center of Torremolinos on the seafront near Playa del Lido and Bajondillo.
The miniature golf consists of 18 classic holes full of obstacles, the circuit and the tracks are in very good condition. The circuit takes you through the most iconic monuments in the world, starting with the American statue of liberty, and you meet along the way with the Danish little mermaid, or the tower of Pisa and ending with Big Ben in England. Funny is that a couple of holes have a wheel that you have to turn to see how you have to shoot, a Total Crazy Golf!
Besides the facilities it has a bar, terrace, ice cream parlor, billiards area, two bowling lanes and a recreational area with arcade games. The price of a game of Minigolf is 6eu per person. Always check the price on their official page.
Monuments and places near this miniature golf: Casa de los Navajas, Torre Pimentel, Iglesia de San Miguel, and the old town of Torremolinos.
Fuengirola: Adventure Golf
Next to the fluvial park and in front of the Miramar Shopping Center in Fuengirola is this spacious 18-hole miniature golf course and an extra 19th hole, in the open air, just 15 minutes walk from the center of Fuengirola.
This outdoor circuit is very complete in many ways, it is built on a large area so it is great to enjoy if you go with a large group. The design of the circuit interacts with the water that flows throughout the enclosure through fountains, streams and waterfalls. The game, the soothing sound of the water and try getting a hole in one is a perfect combination.
It has a bar that serves all kinds of drinks that can be carried along the circuit, they also have a menu with snacks and food. The price of a game of Minigolf is 9.50eu per person, it has offers a combi ticket. check the prices on their official page.
Monuments and places near this miniature golf: Sohail Castle, Fluvial Park and the Miramar Shopping Center.
Málaga: Goolfy
This minigolf in Malaga is located in the Mare Nostrum Shopping Center, it is not an ordinary and usual circuit, but quite the opposite, it is unique in Spain. Goolfy arrives at Malaga! which is a new concept in the world of leisure, it is also known worldwide as "glow-in-the-dark minigolf" or "blacklight minigolf".
It is a three-dimensional game circuit with 9 holes, but instead of the traditional green artificial grass we find a dark room full of sculptures and 3D figures that are illuminated in the dark with ultraviolet lights. The rooms are divided into three different themes: maritime, arctic and in the jungle. All these design elements create a true "Crazy Golf" for the whole family.
Monuments and places near this miniature golf: Malaga Automobile Museum, Mare Nostrum Shopping Center
Benalmádena: Mini Golf Beach
Playa Mini Golf, also known as Blue Kiwi located in Benalmádena coast next to Santa Ana beach, 10 minutes walking from Puerto Marina towards Fuengirola.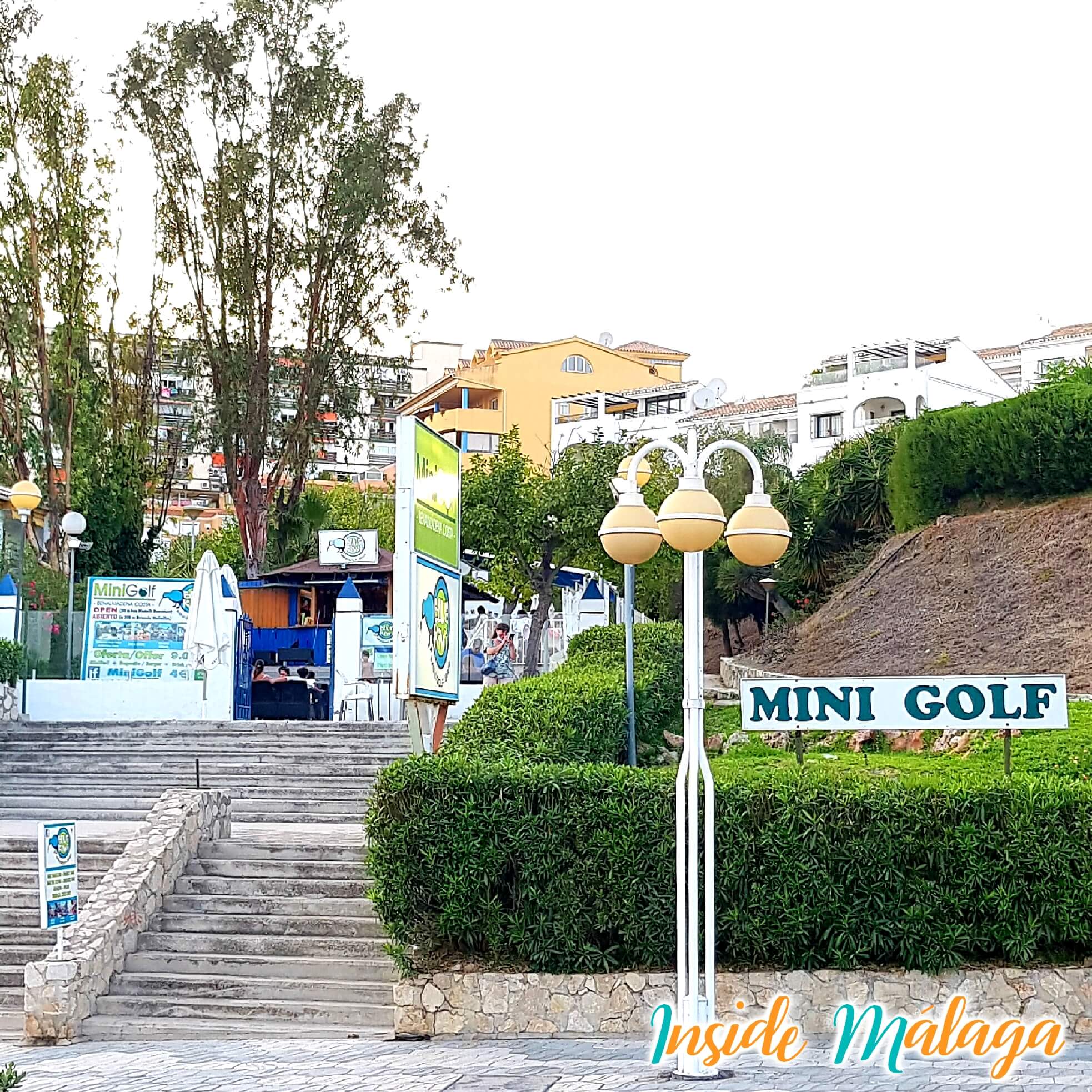 It is a classic circuit with 12 open-air holes spread over a wide course. The miniature golf has a bar called Blue Kiwi that serves drinks and snacks. The price to play miniature golf is € 4 but it has some combi offers: a game, drinks and a snack for € 7.50.
Monuments and places near this miniature golf: Castillo Bil Bil, Puerto Marina, Sea Life, Parque de la Paloma, Benalmádena Ice Rink.
For exact times and prices consult the official pages.
I hope you find this article useful and it helps to find where to play Minigolf in Malaga, if you liked it, please share this article.