Welcome to Casa Canelo Circus Wagon in Álora, an accommodation that is a themed circus wagon where you can enjoy the views and nature that the Guadalhorce Valley region has to offer. An original, different and spectacular stay that will surprise any visitor.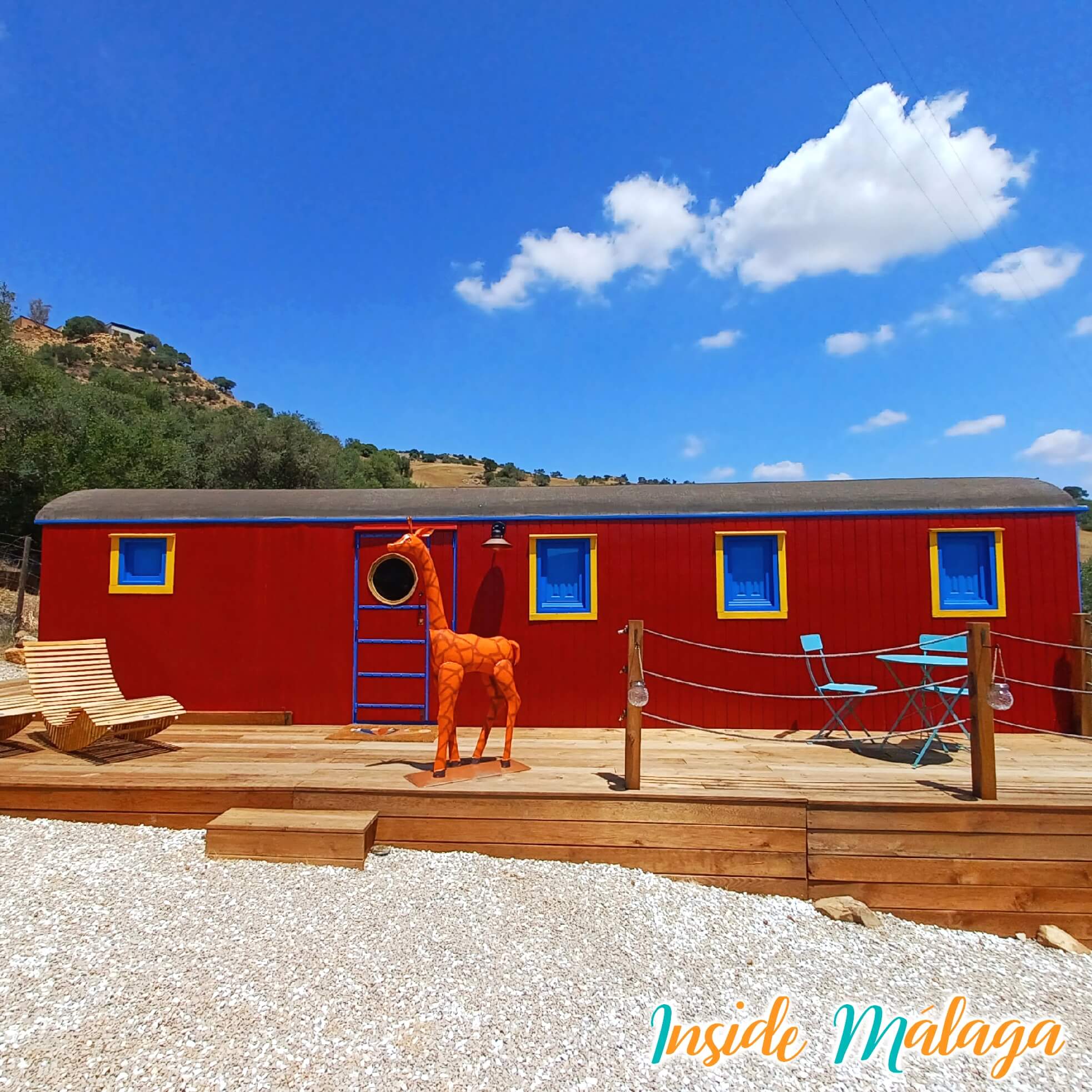 Where Casa Canelo is located
Located about 20 minutes from the village of Alora, and 45 minutes from the centre of Malaga. The road is very good, the last 5 minutes are a secondary road but very accessible and easy to find. The address is: Casa Canelo, Laja Prieta 30, 29500 Álora, Málaga. From Malaga there is a suburban train to Alora.
The accommodation and the surroundings
Once you arrive at Casa Canelo, your hosts Andrew and Lea-Anne will make you feel very welcome. They will give you instructions on how to access the car park and the circus wagon. From this moment on you will feel part of the circus as you explore the wagon, its decoration and wonderful details.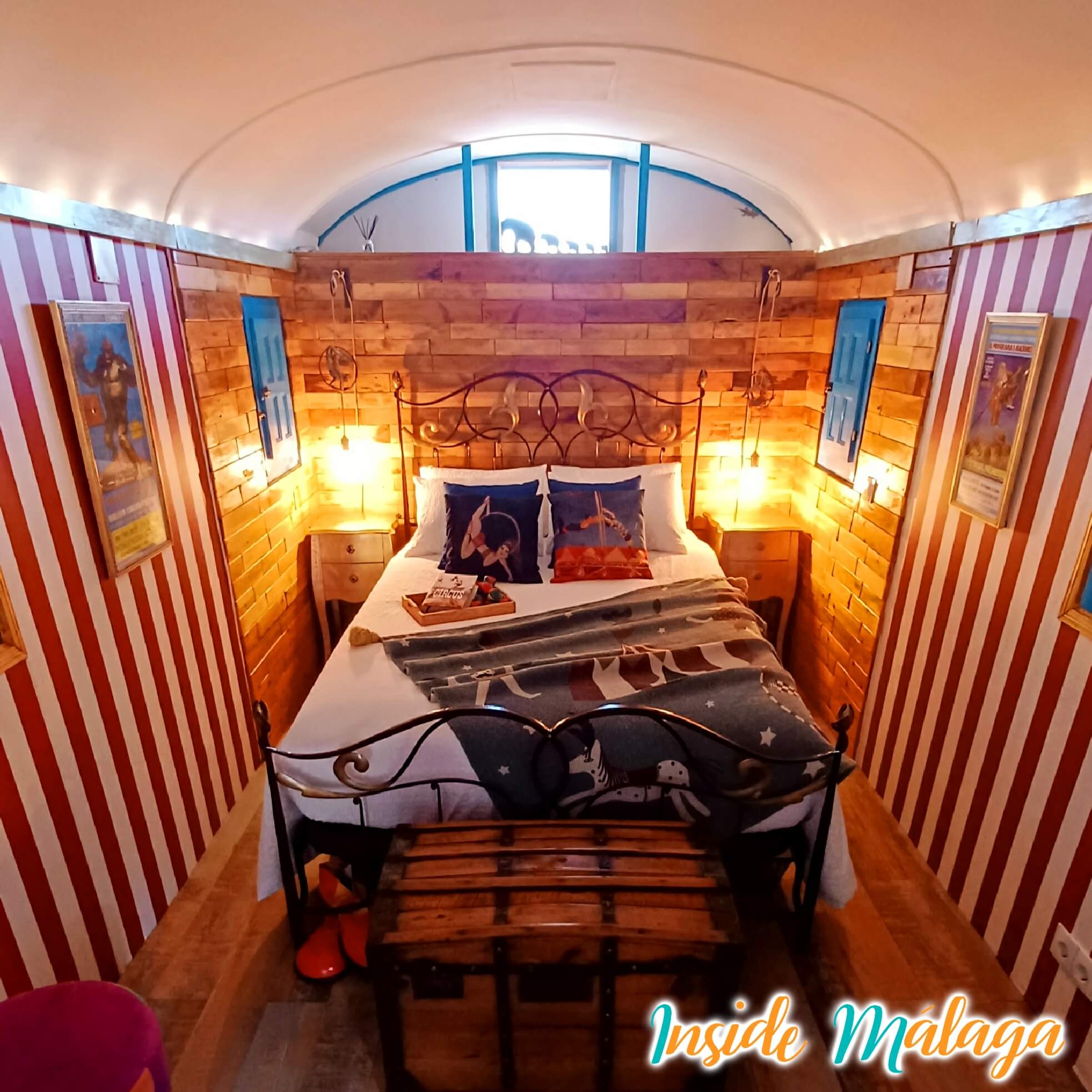 Once inside the Circus Wagon you will notice the circus related decoration, we don't want to reveal all the details so as not to spoil the experience. But we can add that the finish of the details is very careful and accomplished. The lighting of the wagon creates a relaxed, cosy and romantic atmosphere. For the more comical and clownish there are costumes to dress up in. For the more daring and skilful there are balls to juggle. For more entertainment the drawers are equipped with board games.
The site and the region is ideal for hiking and picnic equipment is available. There is only one wagon on the site, so you can enjoy the peace and quiet. On warm days you can use and enjoy the swimming pool.
The wagon sleeps two people and is the perfect accommodation for romantic getaways and to enjoy the peace and quiet of the surroundings of Álora.
Services offered by Casa Canelo
This is a self-catering accommodation, so it is important to mention that there is a supermarket 15 minutes away. The circus wagon has a fully equipped kitchen with fridge, oven and hob for cooking. There is water, coffee and tea making facilities, as well as some small snacks. Outside there is a barbecue with a terrace. Inside there is air conditioning and heating. There is basic wifi and an Ipad against the wall with Netflix to enjoy movies and series. The bathroom is private outside next to the carriage, with a large shower, toiletries and towels and heating. One thing to note is that the region does not have a good signal for mobile phones.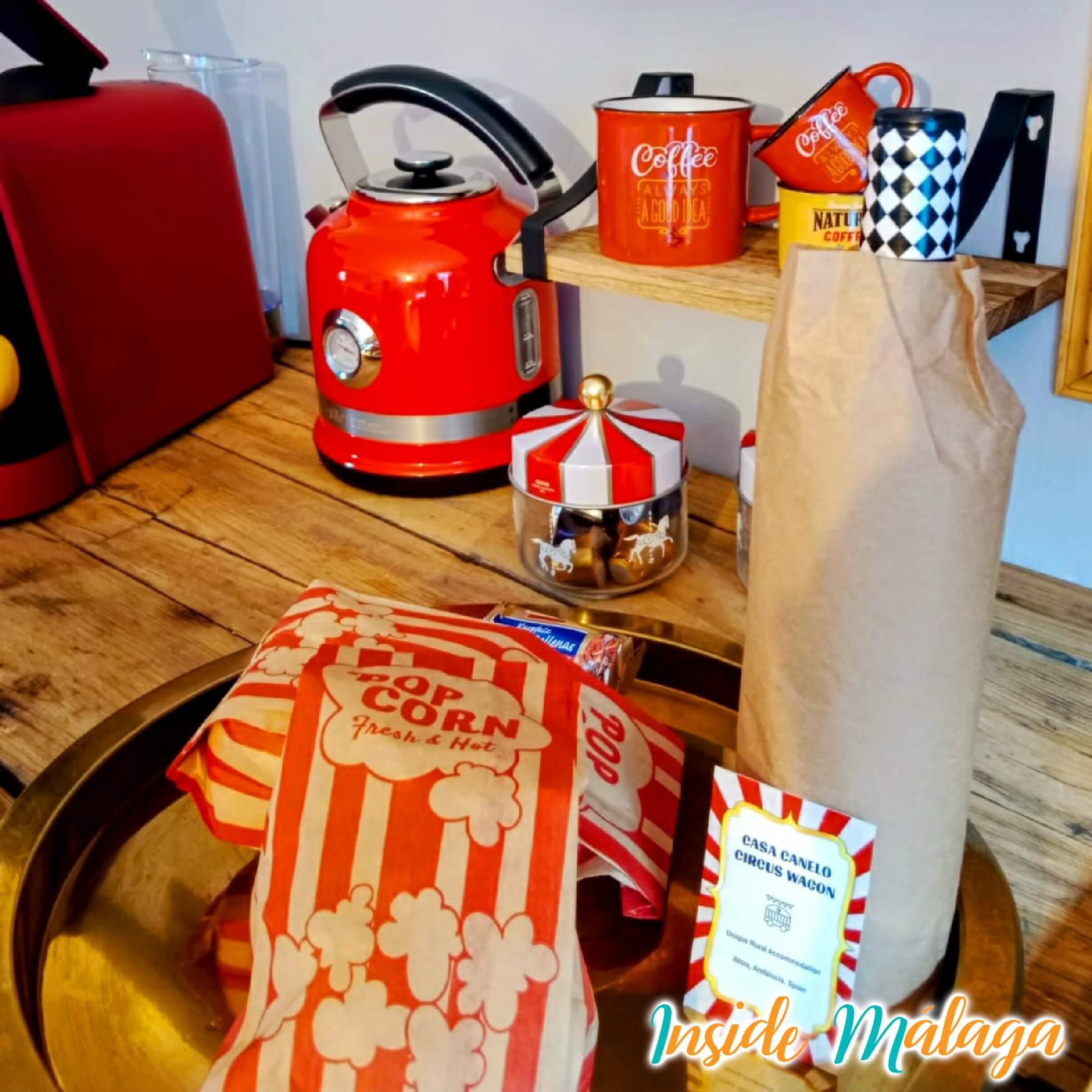 We want to thank from #InsideMálaga for the good treatment received from the lovely Andrew and Lea-Anne, it is a unique and original experience. The carriage and facilities exceeded our expectations, the cleanliness was impeccable, and we loved the surroundings. We will definitely come back to Casa Canelo!
Contact Casa Canelo Circus Wagon
Andrew and Lea-Anne: 711 038 262 (Call or Whatsapp)
Instagram: @Circus.Wagon Facebook